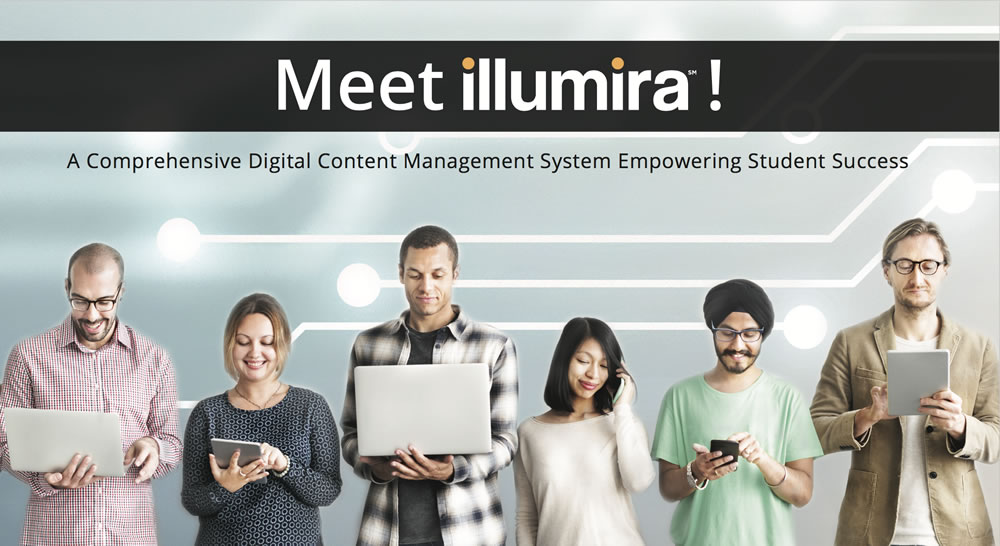 illumira® is an adaptive digital content management solution designed by NJEdge as part of their EdgeMedia solution set.  This cloud-based offering seamlessly adjusts to the rapidly changing education environment due to its fully responsive platform.
As a forward-thinking educational technology platform, illumira removes the learning and teaching barriers facing today's students, faculty members, instructional designers, librarians and IT system administrators.
illumira's four foundational elements ensure robust features strike a balance with the needs of illumira users:
Currency:

Using a crowd-sourced approach, static textbooks are a thing of the past. Curated content is always current, built with agility in mind and a fully mobile-ready and responsive solution.

Flexibility:

Classroom access and at home access ensure students have the ability to learn on demand.

Delivery:

Secure and cloud-based, illumira is accessible 24/7, 365 days a year. By removing the complexity of digital asset management and replacing it with a single solution, users utilize illumira's digital media repository and licensed media hosting to deliver their own competitive advantage to those who need it most.

Cost:

illumira's price point solidifies exceptional value and return-on-investment while providing unlimited possibilities for staff, teachers, instructors and students.
Your digital edge is just a few steps away.